Synthesising Western with Eastern Medicine
Both of us studied western allopathic medicine, which is our main profession, but we are also trying to implement the deep and profound knowledge and wisdom of eastern holistic medicine systems, namely Sowa Rigpa (Traditional Tibetan Medicine), into our repertoire of treatment methods.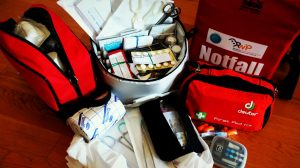 We think that patients worldwide can profit a big deal from a smart combination of both types of medical systems. For instance in acute and emergency cases, acute pain relief, surgical interventions or the treatment of bacterial inflammatory diseases the western medicine is at its best, and in case of psychiatric diseases, chronic diseases like rheumatic disorders, diabetes, allergies or autoimmune disorders Sowa Rigpa can help to eliminate the root causes of such illnesses. The main advantage of Sowa Rigpa is however the prevention of diseases. Together both systems can help to decrease the suffering of a lot of people all around the globe.
To develop a more profound knowledge base of Sowa Rigpa we decided to join this years Sorig Tour to the East Tibetan region of Amdo to study with some of the best teachers directly in the country of its origin.
We hope that one day with the experiences of this journey, the people we encounter and the places we discover we can contribute to the foundation of a holistic health care center in Europe to provide the best possible treatments of both worlds for our patients.
(to be continued)