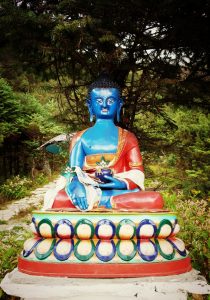 Edmund Hillary Hospital of Khunde
About one and a half hour walk above Namche Bazaar, which is also called "gateway to Mt. Everest", at 3840m above sea level lies the peaceful village of Khunde. It is situated on a plateau surrounded by wood covered hills which are sprankled with huge rock bolders. To the north the sherpa cottages and houses are built against the huge mountain of Khumbi Yul Lha (5765m) which protects the village from the freezing himalayan winds blowing down from the Ngozumba- and Khumbu Glaciers further up the Solokhumbu Valley of Nepal.
Except for the small buddhist Gompa at one edge and the characteristic green roofs which gave the plateau the nickname "green valley", the village is also known for it's Edmund Hillary Hospital which was established in 1966. It was originally run by doctors from Canada and New Zealand and provided basic western allopathic medical treatments to the people inhabiting the Namche area ever since.
Of course we were curious as soon as we heard about it and thus payed an unexpected visit to Dr. Mingma Sherpa and her nurse who were happy to give us a tour through their health care facility.
The Edmund Hillary Hospital is surprisingly well equipped with X-ray and sonography, a room for deliveries including an incubator for the newborns, an own laboratory for measuring basic blood parameters as well as analyzing stool and urine samples, a table to carry out minor surgical interventions, oxygen concentrators and four permanent inpatient beds. The Zeke O'Connor Beyul Garden behind the hospital is designed as a therapeutic as well as teaching pathway. It is decorated with colorful healing plants and cultural displays with explanations such as Mani stones, Prayer Flags & -weels, miniature Stupas and traditional Sherpa houses and as a topup even a beautiful Medicine Buddha statue at it's entrance. Further up the mountain behind the gardens we also found a helicopter platform for emergency transports.
The Edmund Hillary Hospital is frequented by 20-30 patients per day in average (during high season even by 50-60) and around 50 babies are born here every year. The most common reasons for medical consultations are infectious diseases (common flue, gastrointestinal infections, pneumonia, etc.) and chronic joint problems (rheumatoid arthritis, arthrosis and back problems, etc.). The latter was quite obvious for us since we wittnesed the hard lifestyle many Sherpas suffered from with no agricultural machines to help them on their mountainous fields and the widespread work as porters carrying up to 75kg and more on the back for their tourist customers. A few patients have psychiatric disorders too mainly consisting of depressions and some rare cases of schizophrenia. However psychiatric diseases are much less frequent compared to the west (or maybe just underdiagnosed?). More severe diseases who can't be handled in the Edmund Hillary Hospital of Khunde alone have to be taken to a medical center in Kathmandu by helicopter flight which takes around 2h if weather conditiona are suitable.
The whole project is financed through the Edmund Hillary fond, whereas the nepali governement is helping with immunization programmes funded by the UN. These include for example Vitamin A, Polio and standard child immunizations.
Allthogether we did not expect such a well equipped hospital in a small place like Khunde. However since the Sagarmatha National Park is a world famous hikking spot we were happy to see that there is a place where the sick and the wounded can receive basic medical help. First and foremost we are glad that the local Sherpa communities can also profit in such a healthy way from the mass tourism with rising attendances of hikers from all over the world wo choose to visit the Solokhumbu area of the Himalayas for it's famous peaks and astonishing landscapes every year.
We would like to thank Dr. Mingma Sherpa for her kind guided tour and her and the other staff's continous efforts to help their patients!
For more informations about the Khunde hospital also check Wikipedia.org!
---
Interested in volunteering

?
The Edmund Hillary Hospital in Kunde does accept overseas medical students looking for elective training and Doctors who would like to give a helping hand there. All correspondence should be directed to the resident doctors at Kunde Hospital (Email: kunde [at] khumbu [dot] wlink [dot] com [dot] np)
---
Also check out the corresponding foto gallery here for more pictures!