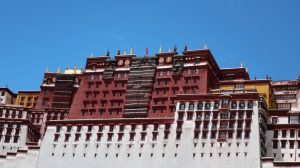 Potala – Palace of the Gods
Wandering the great halls of Potala Palace
Under high security measurements we entered the famous Potala Palace which stretches out majestically upon Marpori Hill over the roof tops of Lhasa. We had to climb over 170 steps to reach the inner court yard from where we proceeded into the many chambers and halls of the former residence of his holiness the 14th Dalai Lama. While the white part of the palace, which was founded by the 5th Dalai Lama, inherits facilities for political and worldly matters, the red painted buildings are dedicated to spirituality and host many buddhist artifacts.
From the palace roofs we had an impressive view over the whole Lhasa valley and its massive surrounding mountains. We could see the glaring golden tops of Jokhang temple in the oldtown, Lhasa river shivering in the south and to the south-east we identified a big hill with a tall antenna on top – the legendary Chagpori Hill. Once there stood the famous historical Chagpori Medical College where generations of Sowa Rigpa students learned about the tibetan science of healing. In 1916  it became the Men Tsee Khang (Medical- & Astrological Institute for Sowa Rigpa) until it got destroyed by the Chinese on March 10th in the year of 1959. Nowadays only a TV antenna crowns the hilltop as silently vibrating reminder of its past glories and is spreading chinese mass entertainment instead.
The first rooms of the palace consisted of waiting rooms for political guests and diplomats who urged for an audience with his holiness. These took place in a colourfully decorated throne room which was filled with butter lamps, religious paintings and rich textured tapestry making it look more like a temple than a place for politics. Right next to it were the private chambers of the Dalai Lama with rooms for prayer, studying and contemplation and for his physical wellbeeing. The furniture was quite humble and functional and at some point did not give the idea of beeing a former royal abode. Thick walls with relatively small windows, who offered amazing views over Lhasa, as well as wide and long curtains in portals made sure that the room climate stayed stable throughout the year, with cooling properties during the summer and keeping the heat inside during the rough tibetan winters.
The rest of the white palace formerly contained offices for ministers and government officials. Unfortunately it was inaccessible to visitors and so we quickly continued to the red painted religious parts of Potala. We walked through hallways and huge sanctuaries which were decorated with wall paintings of different saints and spiritual protectors as well as many more artistic Thangkas and statues of all sizes in every corner. One special statue in the Longlife Buddha Temple cought the attention of our Sorig Tour group: it was a female godess in wrathful pose which stood besides some taller and more dominant Buddha figures. However the exact background and purpose of this deity was forgotten and remained unknown until just recently after a small scripture was found inside. It thus was identified as a rare female illustration of Shang Lon, which is an important protector for all medical practitioners and their patients.
We also had the opportunity to discover a large 3D- Kalachakra Mandala in on of the smaller chambers. Shortly speaking this kind of Mandala is like a model of the outer world as well as the world within us. It is used in a complex and secret tantric system as an object for meditation and symbolizes the sacred residence with its residence deities, usually depicted in graphic form. During meditation practitioners learn to rebuild this whole Mandala by visualization around themselves with every detail, only to destroy all the hard mental work again in the end. This certain Kalachakra Mandala was constructed with pure gold as a three-dimensional model and consisted of more than 724 little statues. The longer we looked at the ornamented miniature arches, walls and towers and all the handcrafted figures, the more we got drawn into this amazing little sacred universe that stretched out on around 4 to 5 square meters in front of our eyes.
Later we also met the 5th and the 7th Dalai Lama personally … in a way. Both of them were mumified once they passed away centuries ago and each of them was placed within a huge golden stupa. The 7th Dalai Lama is now surrounded by approximately 200 kg of pure gold and gems, whereas the 5th Dalai Lama resides in a massive golden stupa that weighs around 3000 kg. Impressive!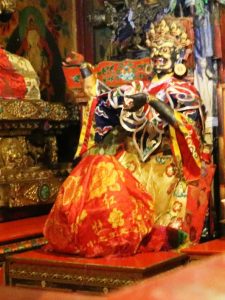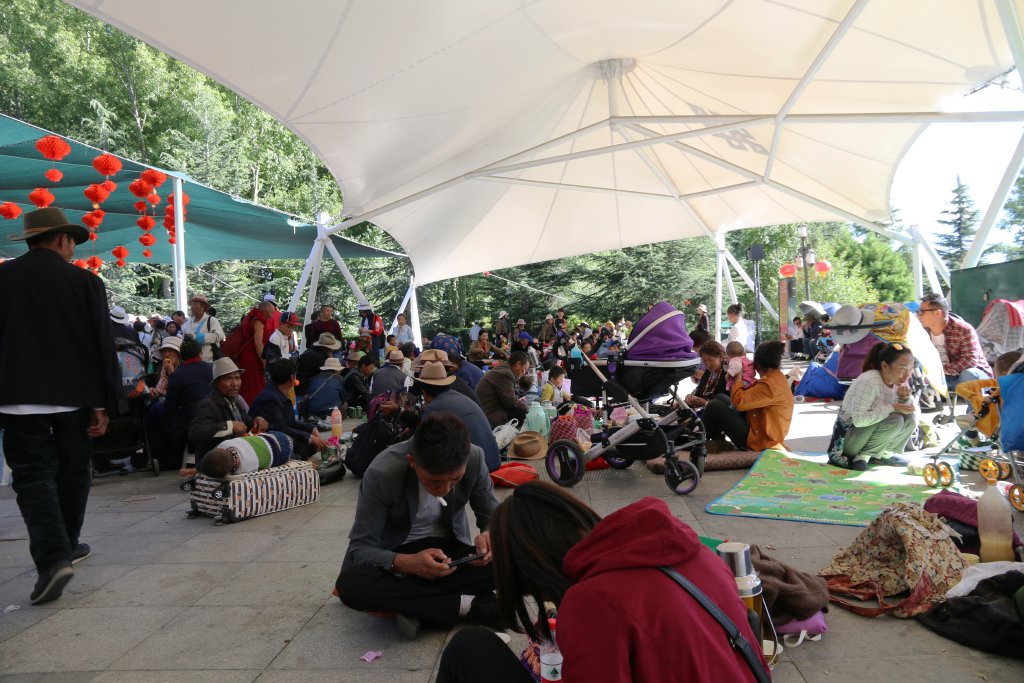 The Yoghurt Festival
The Sho Dun Festival, also known as Yoghurt festival, takes place in Lhasa around mid-August every year. It is dating back to the 16th century when lay people offered yoghurt to the monks who just ended a month-long retreat, during which they stayed within their monastery walls to avoid stepping on numerous insects which came out in the summer. During the festival the gardens of Potala and Norbulingka are usually filled with tibetan families celebrating with food, drinks, singing and dancing.
The bright afternoon sun burned our eyes for the first moments after we came out of Potala's dark chambers, but we could already hear drums and deep-voiced singing from below. Curious about the festivities we discovered beneath us, we quickly took the steps down to the gardens and small lakes under the palace. Soon we found ourselves among hundreds of smiling Tibetans of all ages who were enjoying their late afternoon with yoghurt, chang beer and listened to a traditional Tibtetan Opera under a huge tent.
Find out more about what we discovered in and around Lhasa!
Bellow you can find the corresponding articles about our first days in Central Tibet. Part 2 to come soon!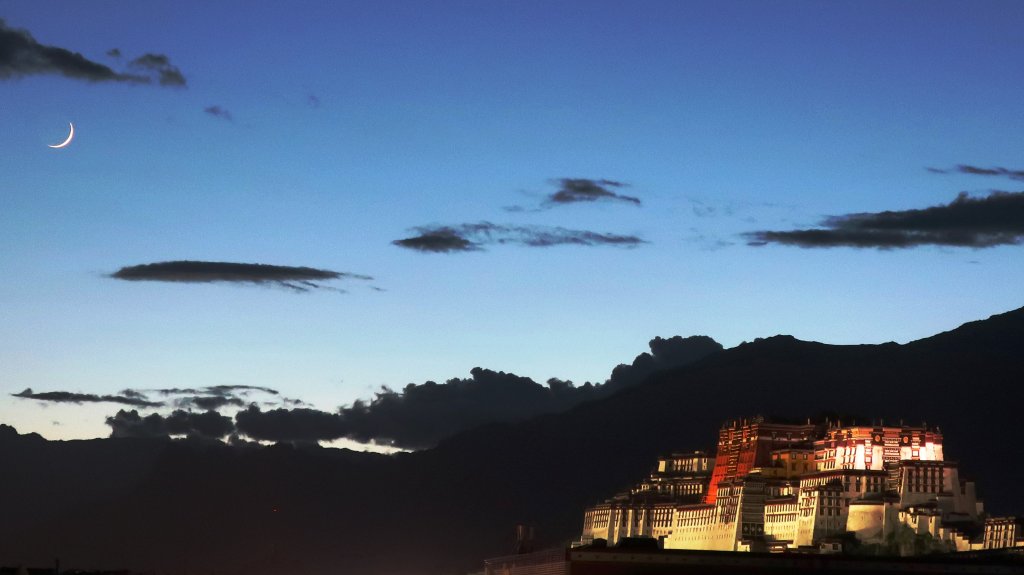 Following our exciting tour through East Tibet/ Amdo our group headed towards Lhasa in Central Tibet. We visited many famous and spiritual places with high importance to Tibetan Buddhism as well as Traditional Tibetan Medicine - Sowa Rigpa - in and around Lhasa the following weeks. There is so much to write about but we tried to point out the most important sights and experiences.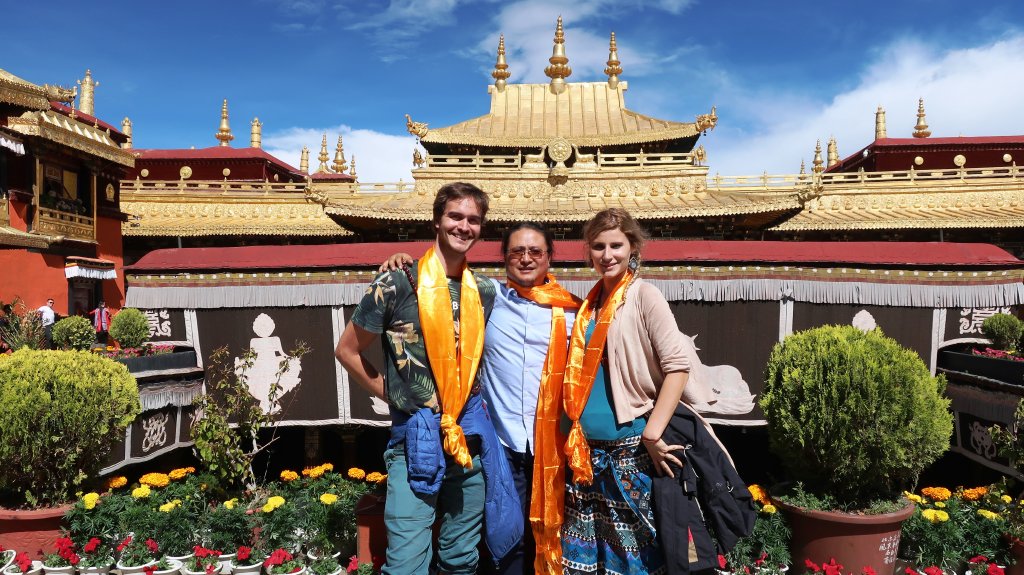 Barkor Square is a circular street going around the famous Jokhang Temple in the centre of Lhasa. The temple is the spiritual heart of all Tibetans and many priceless religious artifacts are beeing kept within. Day and night masses of tibetan pilgrims circulate Jokhang and prostrate countless times for bliss and spiritual development. The devotion of the tibetan people for this holy place creates a unique atmosphere of peace and mysticism, bringing ancient buddhist deities back to life …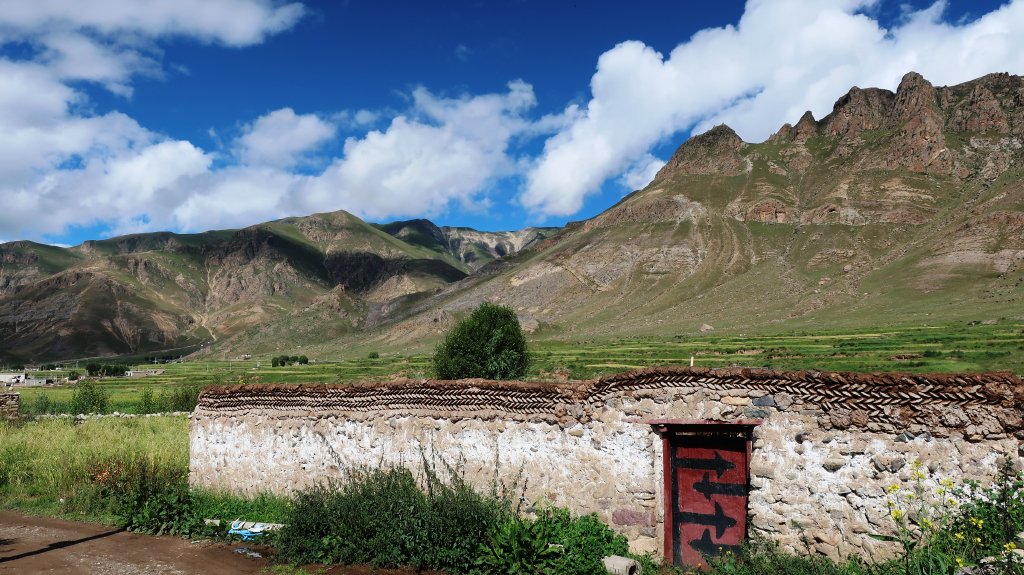 On the first day in Central Tibet our Sorig Tours group already visited one of the biggest highlights of the week: the birthplace of Yuthok Yönten Gonpo the Elder. He is considered to be the founding father of Traditional Tibetan Medicine, Sowa Rigpa. Remarkably he was not only a great doctor who reached the unbelievable age of 125 years in the 8th century A.D. but he was also a highly realized buddhist practitioner who achieved the absolute rainbow body – the highest form of enlightenment – together with his wife, and his dog.